Who we are
Moore & Warner's agricultural heritage in the American Midwest and Great Plains extends over six generations and 165+ years. Our team of seasoned agricultural professionals – with backgrounds in farming, farm management, banking, finance, and consulting – serves a global client base from our headquarters in the heart of the Heartland. We conduct our business according to the steadfast Golden Rule, and today we combine modern agricultural management with the old-fashioned personal and professional service that earns our clients' business, day after day, season after season, year after year.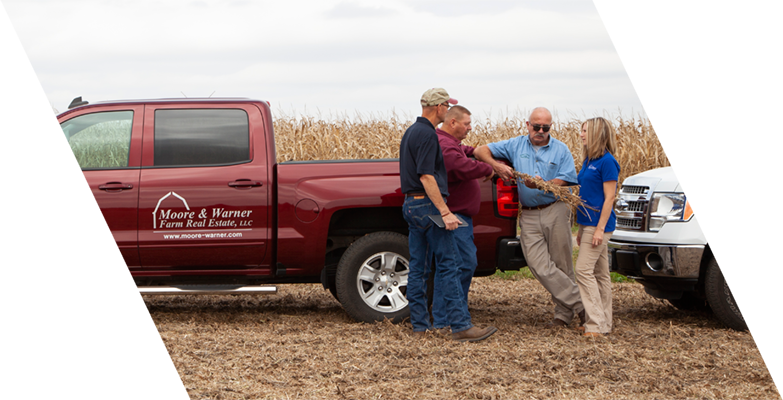 Our Team
Our History
For over 165 years and six generations, Moore & Warner and its predecessors have owned and managed farmland assets throughout the American Midwest and Great Plains. C. H. Moore, a close contemporary of Abraham Lincoln, built one of the largest land portfolios in the post-Civil War Midwest. The subsequent land trust operated as an agriculturally-focused family office for the Moore and Warner families for nearly 100 years before John Warner IV expanded the professional management team to service third party landowners, investors, and consulting clients in 2000.
1846
Clifton H. Moore settles in Clinton, Illinois as its first resident attorney and purchases his first 120 acre farm. Over the next five years, Moore acquires additional land in five prairie states, becoming a prominent land owner. Moore counts among his friends and business associates such capable attorneys as Abraham Lincoln, Stephan A. Douglas and David Davis. When Abraham Lincoln is in town for the terms of court, he practices from Moore's Clinton law office.
1856
Moore constructs the first brick office building in the city of Clinton, where he practices until his death in 1901. Today this fully restored office serves as the corporate headquarters for Moore & Warner.
1865
After the Civil War, Moore and his son-in-law Vespasian Warner form a law partnership known as "Moore and Warner, Attorneys." In addition to the practice of law, the two men offer farm management services. On behalf of clients about the nation, they identify tracts of farmland available for sale, negotiate the land purchases, and compose fair and equitable leases with capable farm operators, and oversee farm operations for their absentee owners.
1901
When C. H. Moore dies in 1901, he leaves a landed estate of over 35,000 acres. Vespasian Warner, then a United State Congressman, serves as the first Trustee. Successive generations of family members manage the estate from its professional office in Clinton. The trustees and farm management staff take a hands-on approach, traveling extensively to manage holdings across the Midwest and Plains states.
1924 - 1952
Clifton Moore "Kib" Warner succeeds Vespasian Warner as the managing Trustee of the C. H. Moore Trust Estate.
1984 - 1998
John Warner III becomes managing Trustee upon Kib Warner's passing. The Trust Estate's holdings continue to diversify with new developments, including commercial real estate and a golf course.
2000
John Warner IV revives the Moore & Warner name with a full-building renovation and the launch of Moore & Warner Farm Management. The firm offers farm management services to third party clients for the first time since C. H. Moore's law practice in the 1800s.
2013
Moore & Warner expands offices from its main headquarters into satellite offices in the Dorothy Warner Business Center.
2015
Moore & Warner re-organizes into Moore & Warner Ag Group, LLC and Moore & Warner Farm Real Estate, LLC, its licensed brokerage subsidiary.